bdrpups.com
Welcome to bdrpups.com
My name is Barbara Rose. I've lived in Snowflake, Az., located in the beautiful, White Mountains, of Navajo County, in South Western, U.S.A., for nearly 20 years. An enjoyable drive from most places.
bdrpups will not be at local swap meets for the summer due extreme heat. This is to protect their better health.
As a rescue we are not taking in any more canines, as we are currently at full capacity.
Not all the dogs available have photos. Please ask if we have what you are looking for.
Here you'll find a variety of, designer Maltese, Pomeranians, designer Poms, and designer Shih Tzu pups. Most of these pups are non-shed and hypo allergenic. Practices used to care for these animals are same as a 5 star ranch. Good healthy companions. If you're interested in one of these, please contact us for more information. We do NOT ship.
As of February 9th, 2023, bdrpups new phone number is 928 229 9365, with an updated system.
Proceeds, are put back into the dogs, for wormer, vaccines, dog food, equipment, bedding, veterinarian, spay and neuter expenses. To provide the healthiest animals possible.
Care tips: Small dogs require the attention of nails being checked and clipped. Teeth cleaned periodically. To help with this, an occasional raw carrot helps keep them clean. Also, their anal glands should be expressed once per month. These are simple things to do, and can be easily taught.
Keep your dog from the shivers during inclement weather, by putting straw in the dog house and entire pen. Cold and wet conditions are VERY stressful on any small dog, leading to possible veterinarian bills. Straw can usually be found at your local feed store. Please don't use woodshavings, unless from a mill. They're actually wood chips. Not shavings.
If you have a question about your dog you bought from bdrpups, don't hesitate to contact us.
To view dogs currently available please click on pups ready to go home and again under photo. Our dogs are kept in large outside kennels, according to dog size, with dog house and shade.
These dogs get their exercise, as dog food, and water is given and pens cleaned, they have an area in which they're allowed to run freely and stretch their legs, as though they were in YOUR fenced yard. Results have been, happier dogs
Much less barking, and happy to return to their known safe zone, their kennel. When they've been good they're given cooked liver bites, 2-3 times weekly. Even when we sell a spayed, or nuetered dog, the dog has a happy nature. Each animal is sold with a shot record that's UTD (UpTo Date), including worming, a health warranty and small bag of Retriever dog chow. If you see a pup or dog of interest, please text or call: 928 229 9365, mention name of pup or dog, and if delivery is needed to Payson, or the valley area, in Az. if needed. Local delivery from the Snowflake area, is also available for a reasonable fee. Inquire for fee rate.
Deposits are $50.00. Acceptable through Zelle or Venmo, at which time the delivery fee is also paid. Deposits are applied to the purchase price. This secures the dog of interest, and takes it off the listing. Balance paid in cash at time of dog, pickup.This fee is competitive.

---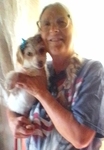 This is Patches, at 15 mos. of age. A 14 lb. female, Maltese Toy Aussie, ready for most any home. We can be found at: 8755 Park Place Trail, Snowflake, AZ., 85937. By appointment only...
Testimonials appreciated from those that have purchased from bdrpups:
Evelyn from Lavene, Az! On June 13, of 2021, I purchased my baby (Twinkie) from Barbara Rose. It was the most stress-free experience. She was clear, concise, and communicative. If you're looking for your next fur baby, I highly recommend you contact her. She is great! My baby turns one today! Celebration is underway..
Enrique, Our experience buying our pups has been one of the best we know. She cares very much for the pups and their safety.
Delivery Options: We now have delivery available for various areas of Mesa, AZ. and other valley areas. Payson is also a delivery area. Please ask about delivery rates.
Delivery to Show Low $35.00, and Payson $90.00 at this time. For Arizona's valley areas please ask about delivery fees if delivery is needed.